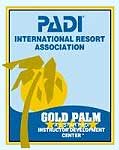 The Dive Center Creta Maris, has been providing dive services to people with all levels of experience for some eleven years now.

Established in 1994, we have grown successfully throughout the years, making us one of the top Dive Centers in Europe. Our management and our highly trained staff have worked hard year after year to ensure our excellent reputation and growing popularity. Our staff are carefully selected from throughout Europe, offering guided tours and instruction in many languages.

The Dive Center Creta Maris is an official member of PADI (the Professional Association of Diving Instructors) which is the worlds largest recreational diving membership organization. This includes dive businesses, resort facilities, academic institutions, instructor trainers, dive educators, divers, snorkelers and other water sports enthusiasts.
Professional PADI Members (dive centers, resorts, educational facilities, instructors, assistant instructors and divemasters) make underwater exploration and adventure accessible to the public while maintaining the highest industry standards for diver training, safety and customer service.
PADI has recognized the high quality and service that we provide here, and awarded us the prestigious

Gold Palm Resort

rating. This defines us as a center offering quality accommodations, superior service, excellent dive opportunities, focus on memorable dive experiences, customer satisfaction, diver safety and environmental awareness, among many other things. In short, we go the extra mile to provide both professional and outstanding service in all of our programs.
PADI further recognized us at the beginning of this season by presenting us with an

excellence in diving business

award.

This encourages us to maintain and supercede our high standards both in diving safety and customer care. In future years we hope to be able to report many more achievements and awards.

We feel that this has all been made much easier to achieve with the help and support of the staff, the management and the owner of the Dive Center, so we would like to take this opportunity to thank you all.